Now that you have a better idea of what you own, what your lifestyle is like and what your personal style is like, let's see if what you normally gravitate towards matches all three criteria.
I'm not talking about going into your wardrobe and picking out what you THINK would be your favourite outfits in your head to wear. Because we all know we can really romanticize and imagine what our favourite outfits would be, but don't actually wear them. 😛
Nail the feeling first
I'm thinking more about going into your wardrobe and being aware of the fact that you reach for the same, perfectly cut jacket with the wrap detail almost on a daily basis even though you have 15 other jackets that are almost brand new. Or for the same pair of pants 4 out of 5 times a week even though you have 25 other pairs languishing in your wardrobe.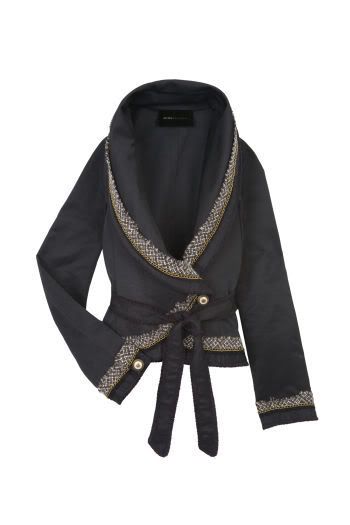 Jacket from BCBG. 
There is something about this piece and this outfit that you're wearing that (should) make you feel a certain way. If it's that jacket, explore what it is about it. Is it because it makes you feel more professional? More business-like? In control? Sexy? Feminine? Powerful?
It makes you feel good in some manner, so pinpoint what that feeling is, and understand that every piece in your wardrobe should feel like that when you put it on. They should make you feel amazing. If not, they really shouldn't be in your wardrobe (but I understand if they are)…
Now look at the details of the clothing item
So now take a look at that jacket. What is it about the jacket in particular that makes you feel more professional? Is it that it fits like a glove? Is it the material being soft yet structured? Or that it's tweed? Is it the wrap around the waist of the jacket? The colour being a deep charcoal grey? The buttons?
So if it's the tie, or the wrap feature around the waist that makes you feel more feminine and nips in your waist a bit, giving you that hourglass figure you crave?
Now that you know what the detail is on the jacket that makes you feel amazing, you can look for that feature when you're shopping for another jacket or even a top because the wrap detail for example, can be applied to any top, not just a jacket.
And now, you have a filter, or a point of reference of what to look for when you go shopping for clothing items. 🙂
But what about my personal style? It's nothing like my wardrobe!
If you want to switch your style to be more Dita-esque, think about purchasing ONE piece with a light lace detail (a camisole perhaps?) and wear it under that fabulous jacket, but make sure that the favourites of your closet can work with what you want to shift your style towards. It should also work with anything else that you have in your wardrobe instead of being a great piece that doesn't really fit in your wardrobe, and sits alone by itself.
You don't have to go overboard with copying everything you like about a certain style or trend, but what you should do, is work it into your current wardrobe and make that a part of your personal style instead of the definition of it.
The point is to use what you have in your wardrobe and enhance it with touches that are definitive of what your personal style is (or what you want it to be). But before you can do that, you need to know what works for you in your wardrobe, what your favourite pieces are, and which ones you HAVE to keep and work your future pieces with.